El País de los Juguetes
Mi Micromuseo / Buenos Aires, Argentina
27 de agosto de 2015

Le pregunté a 40 artistas de distintas generaciones y disciplinas:
¿tenés alguna obra que fue importante para vos y hace mucho está guardada?
Me reuní con cada unx de ellxs. Me contaron la historia de la obra, por qué había sido importante para ellxs, y me la dieron.
Una vez que tuve todas las obras, La noche del 27 de agosto de 2015 -mi cumpleaños-, realicé una muestra a modo de celebración. Fue en Micromuseo, un espacio de arte en el sótano de un edificio emblemático de Buenos Aires.
La muestra estuvo abierta sólo una sola noche. Hice visitas guiadas, compartiendo los relatos de los hacedores. Las obras estaban montadas en regiones: en una región estaban las que habían sido un encuentro con una técnica, en otra las que habían sido un encuentro con una temática, en otra las que habían sido compañía en un momento difícil, etc. Había pinturas, dibujos, fotos, canciones, videos, objetos, esculturas. Ninguna obra tenía nombre. Todas las obras estaban firmados por todxs.
Al final repartí un catálogo con los relatos, hecho de papeles sueltos en una bolsita transparente. Cada hoja tenía escrita unas líneas de lo que mi memoria recordó de los relatos de lxs artistas.

(scroll down for english version)




Habitantes:
Roberto Jacoby, Diego Bianchi, Juane Odriozola, Ariel Cusnir, Diana Aisenberg, Andrés Alves, Sebastián Tedesco, Casiana Flores, Juliana Turull, Sebastián Fuks, Juan Reos, Irina Kirchuk, Julián Sorter, Laura Ojeda Bar, Francisco Vazquez Murillo, Mariela Scafati, Adrián Herrera, Nicolás Moguilevsky, Dani Zelko, Lihuel Gonzalez, Valentín Demarco, Matías Ercole, julian teran, Daniel Alva, Natalia Cristo, Marina Paez Morsh, Martina Mordeau, Estrella Herrera, Rafael Barsky, Diego Spivakow, Karina Peisajovich, Daiana Rose, Manuel Abramovich, Milton Seechi, Silvia Rubinson, Fàtima Pecci, Laura Quesada, Antolín, Tomás Rawski, Franco Fasoli, Tiziana Pierri, Bruno Grupalli, Mario Scorzelli, So􀏐ía Vitola, Rodrigo Túnica, Daniel Aguilar Ruvalcaba, Guillermo Carrasco, Fernanda Alvarez D'ielsi, Dolores Martin y Victoria Papagni.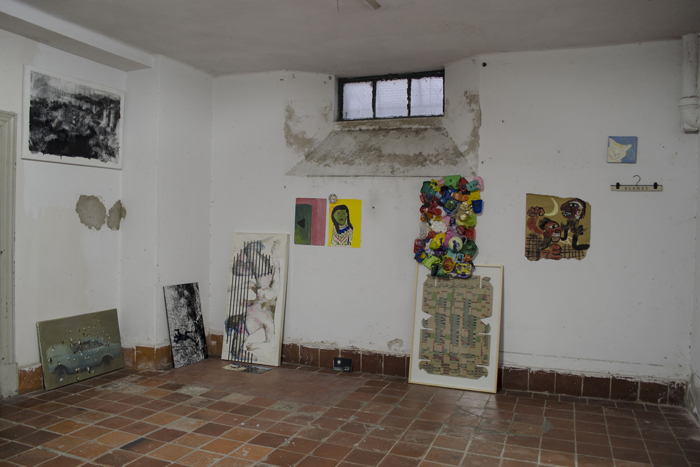 I asked 40 artists from different generations and disciplines:
Do you have a work that was important to you and has been stored for a long time?
I met with every one of them. They told me the story of the work, they told me why it had been important to them, and they gave it to me. Once I had all the works, the night of August 27, 2015 -my birthday- I made an exhibition as a celebration. It was in Micromuseo, an art space located in the basement of an emblematic building of Buenos Aires.
The exhibition was open only for one night. I made guided visits, sharing the stories that the artists had entrusted to me. The works were set up in regions: in one region there were those that had been an encounter with a technique, in another one those that had been an encounter with a theme, in another one those that had been company in a tough moment, etc. There were paintings, drawings, photos, songs, videos, objects, sculptures. No work had the name of the author. All works were signed by all of us.
In the end I distributed a catalog of stories, made of loose papers in a transparent bag. Each sheet had a few written lines of what my memory reminded of the stories.